The French quarterly aviation history magazine "Icare" has covered the first aviation meetings in their last three issues, "Courses et Meetings Aériens de la Belle Époque 1909-1914".
No 222 covers the 1909 meetings in 140 pages, no 223 the 1910 meetings in 180 pages and no 224 the 1911-1914 meetings in 16o pages. No 224 also contains more than 30 pages of short biographies of pilots and constructors.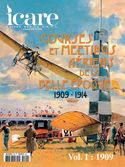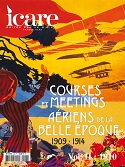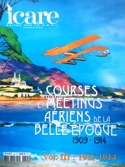 This is by far far the most ambitious effort to coherently cover the first air race meetings (after thefirstairraces.net, of course...). As usual with Icare productions they are big (32 by 24 cm), beautifully produced soft-covers, with lots of big photos of planes, posters, people and memorabilia and lots of colour. There isn't all that much text about all meetings, and focus is on the French meetings, but they are definitely worth having. Particularly the long list of biographies is unique. I'm a bit disappointed that there are so many misidentified photos, but otherwise it's great stuff and the enthusiast really must have them.
They can be ordered for EUR 21.55 plus postage each from
http://www.revue-icare.com
, but since it is a bit cumbersome it might be better to look for some web bookshop that sells them. I found two of them on ebay.